Whether you're looking for a spacious luxury mansion or a cozy cottage-style residence, building the perfect home is an immensely rewarding and exciting experience. As you begin your journey toward homeownership, there are many important decisions that you must carefully consider. One of the most important choices you will make as a future homeowner is whether to select a custom or production home builder.
So what are the key differences between these methods, and what are the major pros and cons of each? This short, simple overview will help you get started – but if you still aren't sure which path to take, don't worry: with decades of experience behind us, the knowledgeable home building professionals at Budron Homes will be there to help you make the choice that fits you and your family.
How Are Custom Home Builders Different From Production Builders?
Both production home builders and custom home builders are capable of delivering personalized, high-quality results to suit a variety of tastes and budgets. The core differences between them are the manner in which they handle the construction process, and the scale on which that construction occurs.
Production builders are sometimes referred to as high-volume builders, because they are structured to produce numerous construction projects, whether on a national or regional basis. However, while production homes may be constructed in larger numbers than custom homes, that certainly doesn't mean they have to be generic or "cookie-cutter." On the contrary, production builders generally offer clients a range of style selections, which can then be further modified to suit the owner's preferences. An easy way to think of it is that you're starting out with a basic, preset template, which you can adjust to your liking. Depending on the project, customizations might involve cabinetry, flooring, appliances, or other design elements.
While production-built homes offer design flexibility within certain limits, they aren't quite as versatile as custom-built homes, which are designed and constructed entirely from scratch to match the homeowner's specifications. Because the homeowner's unique vision plays a larger role in shaping the finished product, custom homes tend to involve a greater degree of feedback and collaboration between the homeowner and the builder.
Depending on your personality, this can be an advantage or a drawback. If you prefer to sit back, relax, and let the builders handle everything, a production-based method of building is probably the right choice for you. If you like to be hands-on and have a high level of personal involvement, you will probably be happier using a custom builder. That being said, all builders should take the time to sit down with you and provide a comprehensive review of exactly what to expect. You should never feel excluded from your own project.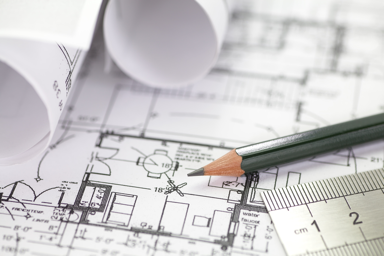 What Costs Should I Expect? How Long Will it Take to Construct My New Home?
Needless to say, personal involvement and design flexibility aren't the only factors which play into the decision between custom and production construction methods. Future homeowners should also consider the practical variables, like construction costs and project timeframes.
With regard to building expenses, custom-built homes typically cost more than production-built homes due to the greater degree of personalization and planning which goes into each project. That being said, it's difficult to establish exact pricing without knowing what details the homeowner is looking for, because no two homes, lots, or neighborhoods will be exactly alike. However, you can start to get a feel for potential costs from the following figures, which come from a 2011 survey conducted by National Association of Home Builders. The survey examined a sample of nearly 2,200 builders, and was based on single-family homes. Average costs included:
Total Construction Cost – $184,125
Windows – $6,148
Stairs – $1,052
Plumbing – $10,990
Insulation – $3,399
Appliances – $3,619
As for timing, custom-built homes typically take longer to construct due to the highly detailed planning process which is involved. Production builders have a head-start on the process, simply because certain factors, such as the style of the home, are already known. By comparison, custom builders must work from the ground up, planning and confirming every little detail before the project can be started. While each project varies, a production-built home generally takes four to six months, while a custom-built home might take anywhere from 10 to 16 months.
At the end of the day, there's no single "correct" choice. There can be advantages and drawbacks to both methods of construction, and ultimately, the best decision for you will depend on what your family wants and needs out of your new home. It's a complex decision which is impacted by financial, aesthetic, and practical factors, so it's important not to rush into a project without first getting detailed feedback from experienced home building professionals.
That's where Budron Homes come in. With more than 25 years of hands-on experience, we have the skill, knowledge, and craftsmanship to make your home building dreams a reality. Call Budron Homes at (407) 347-0701 today to get an estimate for your project. We serve Orlando and communities throughout central Florida.