Congratulations on making the decision to construct a new home. This is an exciting time in your life, but it's also filled with important questions about when, where, and how your project will be transformed from a dream into a reality. For example, how do you choose the right residential building site? Do you go with a custom builder, or a production builder? Then, once actual construction begins, what are the basic steps of the building process? This article will help give you a basic idea of the steps that will go into buying and constructing your new Orlando home. If you still have questions about what to expect or how to prepare, you can count on the experienced building professionals at Budron Homes for personalized assistance at every step of the way.
How to Choose a Lot for a New Home in Orlando
First thing's first: before you get carried away planning out your new house, you'll need to determine where that house will be located. Not only will you need to select a town and neighborhood, which means researching data like crime rates and property taxes – you'll also need to select a land lot, or the piece of property the home will be constructed upon.
At Budron Homes, we strive to give our clients maximum flexibility, which is why we offer three easy options for choosing a lot:
We can build on a lot which you already own. If you already know where you'd like the house to be constructed, we'll confirm the details and start moving your project forward.
We can build on one of our lots. Our extensive inventory has options for homes great and small, so you'll never have to worry about purchasing more (or less) space than you actually want or need.
We can work with you to help you find the ideal lot. We build in a diverse range of communities in and around Orlando, including Windermere and Winter Garden, both of which are conveniently located near Disney World and the Orlando International Airport.
Custom Builders vs. Production Builders: Which is Right for You?
Once you've determined where your house will be built, the next step is to decide how it should be built. Toward that end, you have two basic options: a production-built home, or a custom-built home. Both have some benefits and drawbacks depending on your preferences and priorities, so it's important to discuss your options with an experienced homebuilder before you commit to a decision. What's great for one family might be unsuitable for another, and vice versa. Some key points to think about include:
Your time. It takes more time to build a custom-made home, because every last detail must be planned from the ground up. However, that also gives homeowners a greater degree of control and flexibility.
Your budget. While the total cost of construction depends on factors like appliances, flooring, countertops, HVAC systems, plumbing, lighting, and other elements, production-built homes tend to have lower costs than custom-built homes.
Your hands-on involvement. Production-built homes are based off of template styles, which can then be customized within certain limits. By comparison, custom-built homes are designed completely from scratch. As a result, homeowners have greater input in the custom-building process.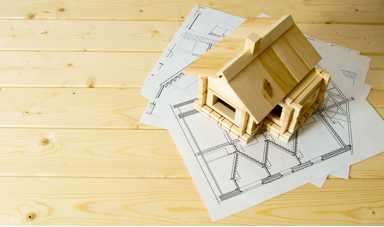 Steps to Constructing A New Home
Once you've chosen the right property and builder for your project, it's time for construction itself to begin. The builders, of course, will handle construction for you; but it still comes in handy to have a basic idea of how the process unfolds. General steps include:
Excavation. Excavation clears the necessary space for step two, which is…
Pouring the foundation. The foundation is absolutely critical, because it provides support for your home. Our team of builders will help select the perfect foundation materials to withstand Florida's hot, wet climate.
Erecting the frame. The frame is a network of wooden boards which provides strength and support, almost like a skeleton.
Rough mechanics. "Rough mechanics" is a term used to describe the nitty-gritty mechanical components of a new home, such as plumbing and wiring.
Prepping and completing the drywall. Also called plasterboard, drywall is used to construct interior walls and ceilings.
Finishing. Once basic support elements like framing and drywall have been taken care of, it's time for the fun design details like trim, cabinetry, and countertop materials. This is where the real personality of a home begins to shine.
Finished mechanics. As opposed to rough mechanics, finished mechanics deal with elements you can actually see, instead of pipes and wires which are hidden behind the walls. Details like faucet heads, thermostats, and light switch covers are all examples of finished mechanics.
Final stage. During the wrap-up stage, all t's are crossed and all i's are dotted. The final stage includes getting the home cleaned up for habitation and inspecting the work for compliance with local building codes.
If you're thinking about building your dream home in Orlando or Central FLorida, the residential construction professionals at Budron Homes will be there to help at every step of the way. We have decades of experience working on projects of all sizes, styles, and budgets, and pride ourselves on providing superb craftsmanship while remaining efficient and affordable. To get an estimate on your project, call Budron Homes at (407) 347-0701 today.