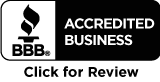 Recently, Budron Homes was accredited by the BBB serving Central Florida. As a BBB Accredited Business, we are dedicated to promoting trust in the marketplace.
According to BBB reports by Princeton Research, seven in ten consumers say they are more likely to buy from a company designated as a BBB Accredited Business. BBB is a resource for the public, providing objective, unbiased information about businesses.
"We are pleased to be BBB accredited because we value building trust with our customers," states Victor Budron, CEO and owner of Budron Homes. "Our accreditation gives our customers confidence in our commitment to maintaining high ethical standards of conduct."
BBB Accredited Businesses must adhere to BBB's "Standards of Trust," a comprehensive set of policies, procedures and best practices representing trustworthiness in the marketplace. The standards call for building trust, embodying integrity, advertising honestly and telling the truth, being transparent, honoring promises, being responsive and safeguarding privacy.
About Budron Homes
Budron Homes is a premier Central Florida custom home builder. We expanded to Orlando and the Central Florida area over a decade ago and brought with us a quarter century of building success in the Chicago area. Budron Homes brings the Midwestern values of dedication, honesty and personal service to one of the most desirable areas not only in the country but in the world.
Our experience with so many facets of the home building and construction industries, combined with thorough understanding of architecture, design and engineering, allows us to provide you with an unmatched level of service.
About the BBB
BBB's mission is to be the leader in advancing marketplace trust. BBB accomplishes this mission by creating a community of trustworthy businesses, setting standards for marketplace trust, encouraging and supporting best practices, celebrating marketplace role models and denouncing substandard marketplace behavior.
Businesses that earn BBB Accreditation contractually agree and adhere to the organization's high standards of ethical business behavior. BBB is the preeminent resource to turn to for objective, unbiased information on businesses and charities.